The Future of Surface Preparation
We are a mobile media blasting service where we can use a variety of methods and abrasives to remove paint from virtually any surface. We specialize in the Dustless Blasting method, where water is mixed with the abrasive which has multiple advantages over conventional sandblasting.
GET IT DONE FASTER WITH NB DUSTLESS BLASTING

Location
Servicing Central Illinois and surrounding areas
E-mail
nbdustlessblasting@gmail.com
Call Now for Estimate
815-343-5708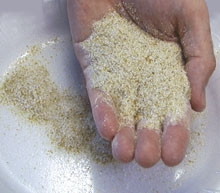 dustless-blasting-heavy-machinery-after.jpg
RECYCLED BOTTLE GLASS ABRASIVE
EXAMPLE OF SERVICES THAT ARE AVAILABLE

Dustless Blasting is the fastest, most cost effective and environmentally friendly surface preparation there is. NB Dustless Blasting can do everything that a sandblaster can do, but better. The uses for the Dustless Blasting are too vast to list, but suffice it to say that this machine can remove virtually any type ofcoating from any material. How does it work? The Dustless Blasting method mixes abrasive and water inside the blast tank. Imagine throwing a handful of wet sand VS a handful of dry sand. The dry sand wouldn't have much impact on the target, but it would blow in the wind and make a big mess. The same amount of wet sand would hit the target with more force, and wouldn't blow in the wind. The water adds more mass and energy to the blast, while preventing dust. The Dustless Blasting method has the following advantages over the old, outdated dry blasting method:
Faster ­ We can strip a car inside and out close to 5 hours

Minimal Dust ­ The abrasive gets trapped in water and grounded, eliminating the plume of dust.
No Warping ­ The water prevents friction and won't warp thin metal like sandblasting will.
Less Containment Needed ­ In most cases, expensive, time consuming containment doesn't need to be set up.
Doesn't Affect Nearby Workers ­ Never sacrifice productivity, other workers can work nearby unaffected.
Leaves a Paint Ready Surface ­ The rust inhibitor decontaminates the metal leaving a clean, chloride free paint ready surface.
Abrasive Flexibility ­ We can use almost any abrasive wet or dry. 95% of our customers prefer the etching of recycled bottle glass, but we also offer soda blasting along with other abrasives on request.